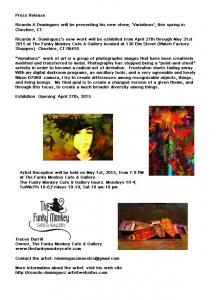 Press Release

Ricardo A Dominguez will be presenting his new show, 'Variations', this spring in Cheshire, CT.
Ricardo A. Domínguez's new work will be exhibited from April 27th through May 31st 2015 at The Funky Monkey Cafe & Gallery located at 130 Elm Street (Watch Factory Shoppes) Cheshire, CT 06410

"Variations" work of art is a group of photographic images that have been creatively modified and transferred to metal. Photography has stopped being a "point-and-shoot" activity in order to become a radical act of deviation. Frustration starts fading away. With my digital darkroom programs, as ancillary tools, and a very agreeable and lovely Nikon D7000 camera, I try to create differences among recognizable objects, things, and living beings. My final goal is to create a changed version of a given theme, and through this focus, to create a much broader diversity among things.

Artist Reception will be held on May 1st, 2015, from 7-9 PM at...